Valet service in Montreal
You wish to offer a valet service in Montreal? Whether it is for a unique event or for a long-term contract, the VIP Valet team offers you a top-of-the-line valet service, adapted to your needs. Thanks to our human and personalized approach, we have carved out a place of choice in this industry since our very beginnings, nearly 25 years ago.
We serve different types of clientele in the Greater Montreal area: hotel complexes, luxury car dealerships, businesses and even individuals who wish to offer a unique experience to their guests. Contact us as soon as today for a quote based on your needs and let us provide you with unparalleled customer service.
Are you getting married or organizing a conference downtown? A valet service will prevent your guests from wasting precious time looking for a parking space. Our experienced valets will park the vehicles for you, in a secure location, and will return them upon request.
You are on site and forgot something in your car? Our valets will take care of it for you, so you don't have to make the trip yourself. Because that's also what providing a human and personalized experience is all about!
VIP Valet can offer you a valet parking service for:
Private event
Funeral home
Car dealership
Reception
Gala
Office Party
Restaurant
Hotel
Baptism
Luxury concierge service
Etc.
A team that leaves nothing to chance
Before your event, our team will visit the site to study its configuration, constraints, and possible detours to offer you an exceptional service every step of the way until and the day comes. In addition, we can customize your event, for example by making logos, banners, and other items to easily identify your event.
Although our employees all have a black uniform with the VIP Valet logo, you can provide them with a uniform that is linked to your event, making them more easily identifiable for your guests.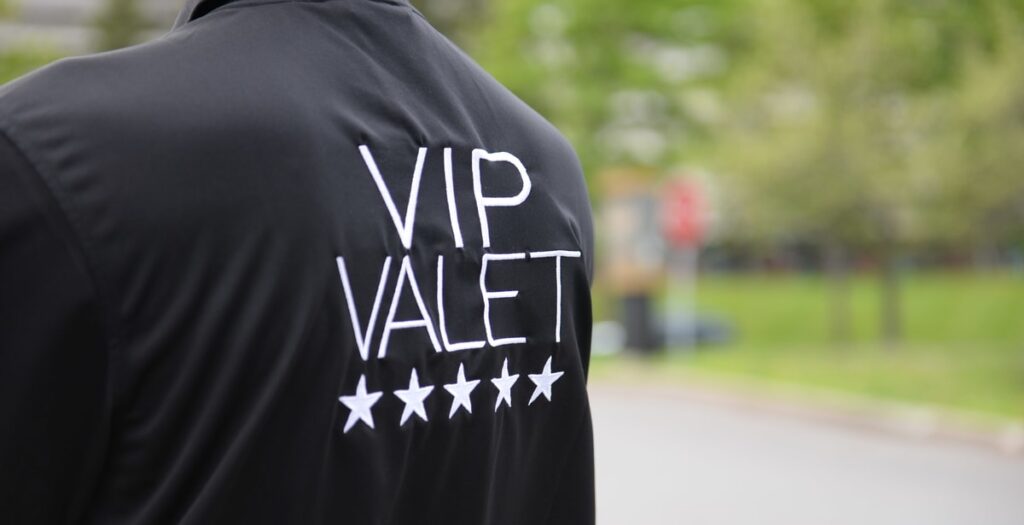 VIP Valet is much more than just a valet parking service in Montreal: it's a unique experience that is tailored down to the last detail! To find out more about our services or to get a quote for an event, contact us today!
Your Montreal guests deserve the best
20+ years of experience in parking management